Yearning for an electrifying, out-of-this-world nocturnal escapade in Barcelona, one of the globe's most vivacious party hotspots? Your search ends here! Introducing the legendary Original Pub Crawl Barcelona, a tantalizing and extraordinary experience that elevates beyond the average pub tour or a typical night out in the dazzling city of Barcelona.
Your Golden Ticket to Ignite a Night
Imagine a 1.5-hour free drinks spree (optionally available for an additional €20) serving as your golden ticket to ignite a night that will etch its memories in your heart. You're about to embark on a glorious party adventure under the Barcelona skies, packed with a treasure trove of outstanding drink specials.
Join our Prestigious Original Barcelona Pub Crawls
Our rendezvous point is the iconic Milans Bar at 20:30 every evening, the starting line of our epic night journey. You're warmly invited to join our prestigious Original Barcelona Pub Crawls, where you'll be guided by one of our exceptional leaders through an unforgettable nocturnal journey in this rhythm-infused city.
The Ultimate Night-Time Adventure
Your nighttime adventure continues with a visit to three more genuine bars, nestled in the soul of the Gothic Quarter. You might arrive unaware of the salsa moves, but by the time the clock strikes midnight, you'll be swaying with the rhythm like a pro!
When does the tour start?
The Original Barcelona Pub Crawl operates daily and initiates the grand exploration of Barcelona's night-life every evening at 20:30 sharp. This well-planned schedule ensures that you get the most out of Barcelona's vibrant evening scene, experiencing the transformation of the city as it moves from the calm of the sunset to the pulsating energy of the night.
Where does the tour start?
Every memorable night on the Original Barcelona Pub Crawl starts at Milan's Cocktail, a popular local hub renowned for its fantastic ambience. Conveniently located in the heart of the city at Carrer de Milans, 7 08002, Barcelona, Spain, Milan's Cocktail serves as the perfect rendezvous point to meet fellow pub-crawlers and kick off an unforgettable evening.
What is the price for the tour?
The tour is priced at €20, ensuring a fun-filled night of pub-hopping, meeting new people, and creating lifelong memories. For those who wish to elevate their experience further, we offer an optional add-on of 1,5 Hours Free Drinks for an additional €20. This package allows you to indulge in a wide variety of cocktails, mixed drinks, and the local favourites without worrying about the tab. The combination of our engaging tour and this enticing drink option truly delivers an unbeatable Barcelona night-life experience.
The Legendary Barcelona Pub Crawl Experience – What's in Store?
Our meticulously planned lineup varies day by day, ensuring you get a unique, fresh experience each time you join our Barcelona Pub Crawl. We promise a mesmerizing journey through a diverse medley of bars, each offering its own unique charm and ambiance that captures the authentic Barcelona nightlife.
Your Original Barcelona Pub Crawl Package Includes:
Features
A curated tour of (3-4) fantastic bars and clubs
Exploring some of Barcelona's top venues
A 1.5-hour Free Drinks Special
Guidance by professional, fun-loving guides
Free Drinks Special includes:

Bottled beers
Wine
Cocktails & mixed drinks
Do you allow stag tours?
Without a doubt, yes! Stag tours or stag parties are one of the Original Barcelona Pub Crawl's specialties. Over the years, we've developed a strong reputation as a leading provider of unforgettable stag nights. We've proudly catered to countless grooms-to-be and their loyal comrades, creating a treasure trove of cherished memories.
We understand the importance of a stag night, the monumental event marking the transition from bachelorhood to married life. That's why we pull out all the stops to ensure your stag do, bachelor party, or guy's night out is nothing short of epic. From the vibrant energy of the city's top bars to the pulsating rhythms of renowned nightclubs, we'll show you the very best of Barcelona's nightlife. With a lineup that changes nightly, every stag tour we host is a unique, tailor-made experience, sure to make your last night of freedom unforgettable.
Rest assured, stag tours with the Original Barcelona Pub Crawl are more than just a typical night out in Barcelona – they're legendary. We have the expertise, the local knowledge, and the commitment to host your stag party seamlessly and memorably. So, gather your mates and let's plan the ultimate stag night!
Book Your Pub Crawl Now!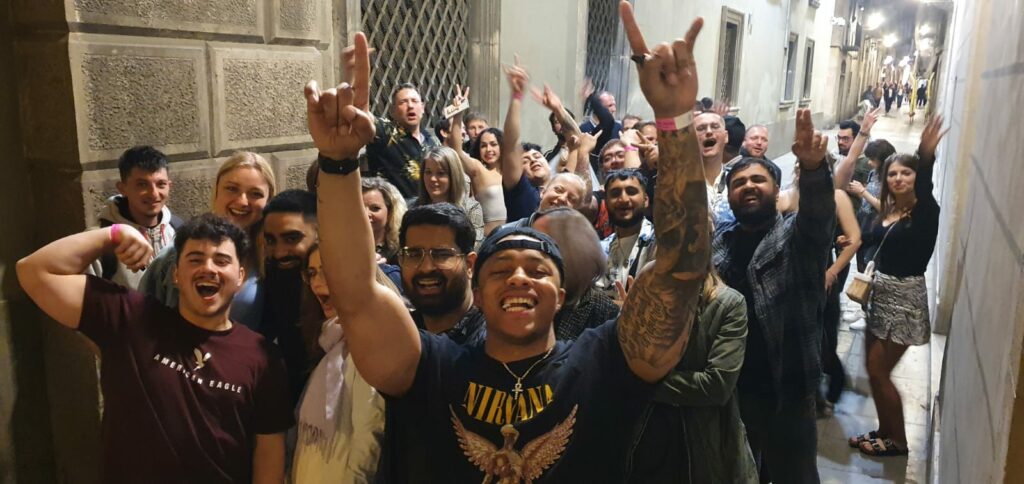 Ready to dive into the ultimate Barcelona Pub Crawl experience?
Important Notice
Please note that participants must be legally over 18 years of age. At Original Barcelona Tours, we encourage responsible drinking and prioritize the safety of all participants. Depending on the route, a metro or bus ticket may be required. Dress smart as some clubs do not permit sandals or tank tops for guys. Let's paint Barcelona red with the most exhilarating pub crawl in town!
Ultimate Guide to a Successful Pub Crawl in Barcelona
What to expect at a pub crawl?
At a pub crawl, expect a night of excitement and camaraderie. You'll journey with a group, often guided by an experienced leader, to various bars in a city. Each venue offers a unique atmosphere, drinks, and sometimes even live music or dance floors. It's a chance to experience a city's nightlife, meet new people, and enjoy a variety of beverages and activities.
How many pubs count as a pub crawl?
A typical pub crawl involves visiting at least three to five pubs in a night, but the number can be more depending on the city, the group size, and the organizer's plan. It's about the experience rather than the count!
How long do you have to stay in a pub in a pub crawl?
Generally, a group stays at each pub for about 30-60 minutes, but it can vary based on the event's schedule, the crowd, and the vibe of each venue.
What to do before a pub crawl?
Before a pub crawl, eat a substantial meal to prepare your stomach for the drinks ahead. Hydrate yourself well, choose a comfortable outfit that fits the dress code of the venues, and make sure you have a valid ID for age verification at the bars.
Why do people pub crawl?
People participate in pub crawls for various reasons. It's a fun way to explore the local nightlife, discover new favorite drinks and places, meet fellow travelers and locals, and have an enjoyable time in a safe and structured environment.
Why are pub crawls fun?
Pub crawls are fun because they combine adventure, socializing, and enjoyment in one package. You get to taste a variety of drinks, explore multiple venues, meet people from around the world, and immerse yourself in the local nightlife culture, all under the guidance of a fun-loving leader.
What should I eat before a pub crawl?
Eating before a pub crawl is crucial to avoid getting too intoxicated too quickly. Choose a well-balanced meal with proteins, carbs, and fats. Avoid spicy foods that could upset your stomach. And remember, hydration is key!
What should I wear to a bar crawl?
When deciding what to wear for a bar crawl, comfort and style should be your priorities. Dress codes can vary, but smart-casual usually works. Avoid wearing flip-flops or tank tops as some upscale venues might not allow them. And always check the weather – Barcelona can be chilly in the evening!
What are some famous bars in the Gothic Quarter for a pub crawl?
The Gothic Quarter is a haven for pub crawlers in Barcelona with its labyrinth of narrow winding streets filled with quirky and exciting bars. Some noteworthy ones include SugarBar for its delicious cocktails, Macera for its homemade spirits, and Craft Barcelona for its great craft beer and live music.
What are some of the best rooftop bars in Barcelona?
Barcelona's skyline is best admired from its splendid rooftop bars. Sky Bar at Grand Hotel Central, Alaire Terrace Bar at Hotel Condes Barcelona, and Terraza de Viana are known for their panoramic views, scrumptious cocktails, and lively ambiance.
What are the best tapas bars to include in a Barcelona pub crawl?
Tapas and Barcelona go hand in hand, and some of the best places to savor these Spanish delicacies are El Xampanyet for its vintage feel, Quimet & Quimet for its creative montaditos, and Bormuth for its local vibe and delicious tapas.
Where to find cheap, yet delicious food in Barcelona?
If you're on a budget but still want to enjoy the local cuisine, don't worry – Barcelona has plenty of affordable places. Check out places like Bo de B for their mouth-watering sandwiches, Can Paixano for its cava and tapas, and the food market La Boqueria for a wide array of fresh and affordable food options.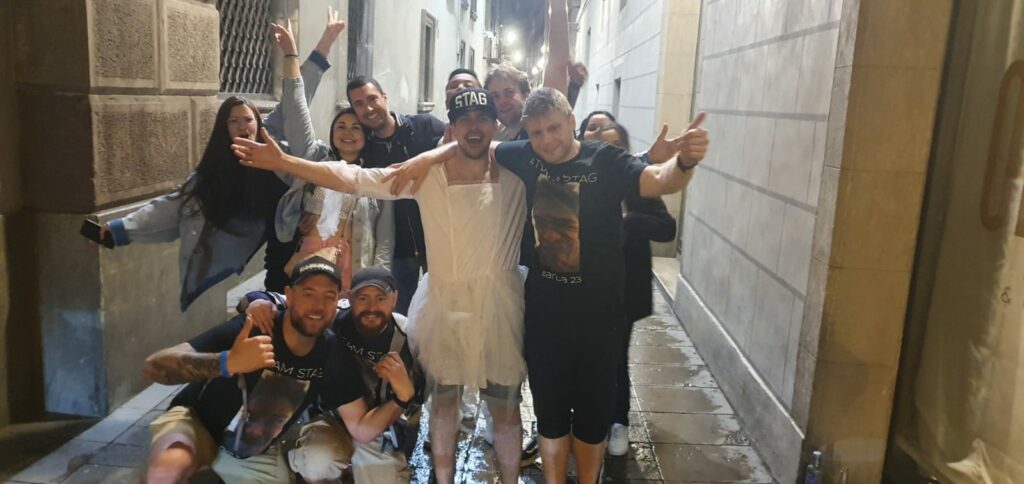 What are the best restaurants in Barcelona with a view?
Dining with a view elevates the whole experience, and Barcelona is full of places offering stunning sights. Check out restaurants like Torre d'Alta Mar for its panoramic sea view, Mirabé for a look over the entire city, or El Xalet de Montjuic for its rotating dining room and excellent cityscape view.
What's the average drink price in Barcelona?
The average price of a drink in Barcelona can vary widely depending on the type of drink and the venue. Generally, expect to pay anywhere from 2€ for a beer in a local bar to 10-15€ for a cocktail in a high-end venue or a rooftop bar.
What are the popular cocktails in Barcelona?
As a vibrant city, Barcelona offers a myriad of cocktails to satisfy every palate. Sangria and Cava are the traditional go-tos, but the craft cocktail scene has been booming in recent years. Gin-tonic has a strong presence in Barcelona, and you will find unique takes on Mojito, Margarita, and various whiskey-based cocktails.
How are pub crawl Barcelona reviews?
The reviews for Barcelona pub crawls are generally very positive. Participants often highlight the vibrant nightlife, the friendly and knowledgeable guides, and the opportunity to meet people from around the world. Of course, like any activity, much depends on personal preferences and the particular crowd on any given night.
What are the best restaurants in Barcelona on a budget?
Barcelona offers a range of budget-friendly restaurants that do not compromise on taste and quality. Check out places like Can Maño for its seafood, L'Antic Bocoi for its Catalan dishes, and Maoz for its vegetarian fare. For cheap eats, street food markets like Mercat de la Boqueria are also a fantastic option.
How to Book the Original Barcelona Pub Crawl?
Booking your spot on the Original Barcelona Pub Crawl is a straightforward process, and here's how you do it:
Visit the product page of Original Barcelona Pub Crawl.
Select the date you wish to join the Pub Crawl. Remember, it takes place every evening, so you've got plenty of options.
Choose the number of tickets you want to book.
If you wish to take the 1,5 Hours Free Drinks option for an additional 20€, you can decide to do so at the location.
Click on 'Add to Cart' and proceed to checkout.
You can pay conveniently using various payment methods including all major credit cards and PayPal. After successful payment, you'll receive a confirmation email with your tickets and other relevant details. Prepare yourself for an unforgettable adventure through Barcelona's vibrant nightlife!
Now that you've secured your spot on the Original Barcelona Pub Crawl, get ready to experience Barcelona's nightlife like never before!
Book Your Pub Crawl Now
Don't just read about it – experience it! The vibrant nightlife of Barcelona is calling, and there's no better way to dive in than with our Original Barcelona Pub Crawl. With exceptional drinks, lively venues, and the promise of unforgettable encounters, this is an opportunity not to be missed. So what are you waiting for? Start your booking process now, and get ready to create some beautiful Barcelona memories!
5 Travelers Share Their Thoughts on the Barcelona Pub Crawl
Sarah, 25, United States:
"I had an amazing time on the Barcelona Pub Crawl! The guides were friendly and knowledgeable, and they took us to some great bars and clubs. We had a lot of fun meeting new people from all over the world, and we even learned a few Spanish phrases along the way. I would definitely recommend this tour to anyone looking for a fun and memorable night out in Barcelona!"
David, 27, Canada:
"I was a little hesitant to do a pub crawl at first, but I'm so glad I did! It was a great way to meet new people and explore the city's nightlife. The guides were really fun and made the whole experience enjoyable. I would definitely recommend this to anyone visiting Barcelona."
Maria, 23, Italy:
"The Barcelona Pub Crawl was the perfect way to start my trip to Barcelona. I met some amazing people from all over the world, and we had a blast exploring the city's nightlife. The guides were really knowledgeable about the city and the bars, and they made sure we had a great time. I would definitely recommend this tour to anyone looking for a fun and memorable night out in Barcelona!"
John, 29, United Kingdom:
"I've been to a lot of pub crawls, but the Barcelona Pub Crawl was by far the best. The guides were amazing, the bars were great, and the atmosphere was electric. I had so much fun that I ended up staying out until the early hours of the morning! If you're looking for a fun and memorable night out in Barcelona, I highly recommend the Barcelona Pub Crawl."
Pablo, 28, Spain:
"I was looking for a fun way to meet new people and explore Barcelona's nightlife, and the Barcelona Pub Crawl was the perfect solution. The guides were friendly and knowledgeable, and they took us to some great bars and clubs. We had a lot of fun dancing, drinking, and laughing with our new friends. I would definitely recommend this tour to anyone looking for a fun and memorable night out in Barcelona!"
If you want to see more reviews of our products and services, please visit our pub crawl review page. We have over 1,000 reviews from satisfied customers, and we would love for you to check them out. Your feedback helps us to improve our products and services, and it also helps other customers make informed decisions about whether or not to use our products and services.
---