Join us on the Free Original Barcelona Alternative Street Art Tour. Barcelona is famous for its strong alternative and underground urban culture. It's been known as the "Mecca" for skaters and artists alike, with its seaside boulevards and endless inspiration from Catalan creativity. The whole city is a playground and gallery if you know where to look. Luckily for you, we do!
Discover Barcelona's Street Art Culture through our Free Original Barcelona Alternative Street Art Tour and explore the hidden gems around every corner. Come duck between alleyways and mysterious corners to find all the underground and local treasures of Barcelona. This is not your average walking tour! With us, you'll hunt the edgy and underground cultures of Barcelona. This is a first-hand experience guided by expats and locals who know the city as home. The tour prides itself on being an informative, social and unique experience. Travelling should be relaxed and fun, and we hope to help you on the way!
---
The Alternative Street Art presence in the Barcelona is undeniable with its devoted street art scene. There are many classic street art pieces which have been around for decades, and new pieces are constantly popping up. Barcelona became a major hotspot for alternative culture in the 90s and is only getting stronger! On this tour, we'll explore alternative neighbourhoods, street art, graffiti, the skateboard scenes, squat scenes, urban legends, stories, and myths.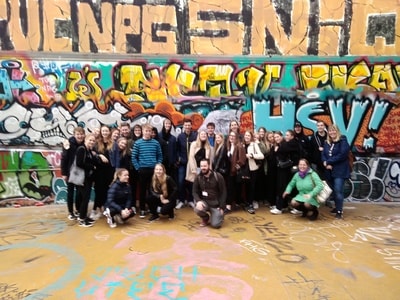 ---
The Original Free Barcelona Alternative STREET ART Tour is 2.5-3 hours & features:
Street Art and Graffiti
Insight into underground and alternative Barcelona culture and history
Exploring emerging Barcelona scenes
Squat Scene
Urban legends and stories
Barcelona's best kept secrets
Art and Music History
Cool Bars, Cafés, and Markets
Cheap Eats
Insider's Knowledge
MUCH, MUCH MORE
Join us on a tour that you won't find in your guide books!
---
Reserve your spot now!
---
As if it couldn't get any better, we offer the tour for free! The guides are true locals who can't wait to share their city and passion with you! That being said, tips are highly encouraged! We wouldn't want to take the saying starving artists too literally ;). The exact route of the tour is susceptible to changes, depending on the guide, the group, and the weather, to ensure the best possible experience for you!
Be prepared for the best recommendations for pubs, clubs, tapas, hidden skate bars and parks, cafés and anything else the cool kids are doing these days from our guides!
---
The Original Free Barcelona Alternative street art Tour