A visit to Flaherty's Irish Pub Barcelona, Our local in Barcelona
By Luke Paull Original Barcelona Foodie
"Have you got that craving? You know what I mean, it's been all day site seeing and you got that rumble in the tummy and a big thirst to match it, and you just can't wait to sink your teeth into something tasty with an icy cold beverage to bring you back to life. Those who have visited Barcelona before and know how the city works will tell you that it's not so simple to a find a place that's going to hit the spot in terms of a delicious meal without breaking the bank, and if you're like us and hang out smack bang in the middle of Barrio Gothic it's easy to trip into an overpriced & underwhelming meal.
For many years now, tourists and locals alike have flocked to Flaherty's Irish Pub Barcelona to escape the overwhelming crowd of the La Rambla. I'm happy to report that the rest of the Original Barcelona team and I have also started to make this place a constant hang out. Upon entering the bar, first impressions will instantly make most people understand our love for this place. A Massive range of beer? Check, delicious homemade meals? Check, a décor that oozes character? Check, Weekly specials on food & drink? Check. Upon arriving I take in the beautiful old charm, pull up a stool and have a chat with the friendly staff. Like always I can't decide what to order, always underestimating the variety of the Menu, with options for just about everyone including vegetarian dishes.
The large Menu ranges from your cult classics, like BBQ ribs, 300 Gram Sirloin steak & 250 gram Irish Angus premium cuts, and Juicy Burgers all the way to Homemade pies, Fresh Sandwiches, and Healthy salads & wraps. I like to head in with some colleges as we can never say no to their meat selection Share platter, it takes 3 tummies to tackle it so beware solo eaters. For the main course or when I am by myself I almost always have a burger craving, and once again finding it hard to make a selection with its extensive range, I end up sitting and wondering, what am I going to have today? It's a tough selection, but then again, it never hurts to ask the friendly staff for any recommendations. All you have to do is sit back, enjoy the sun from their outdoor terrace and consider "what beer to try next?"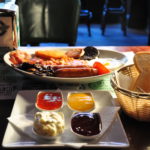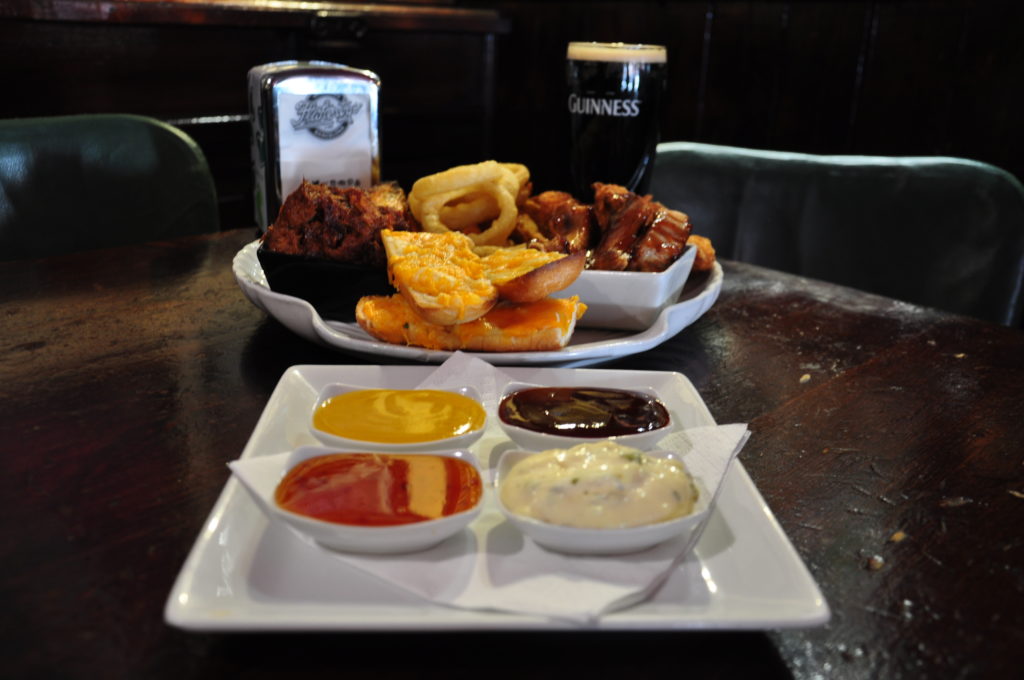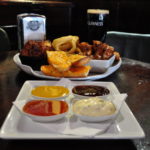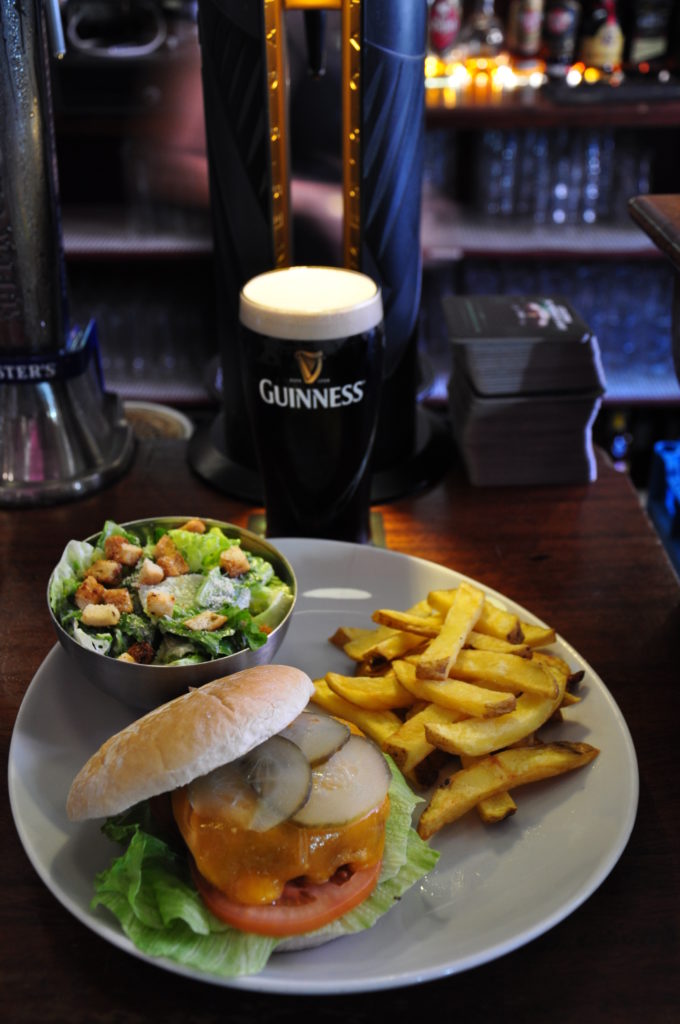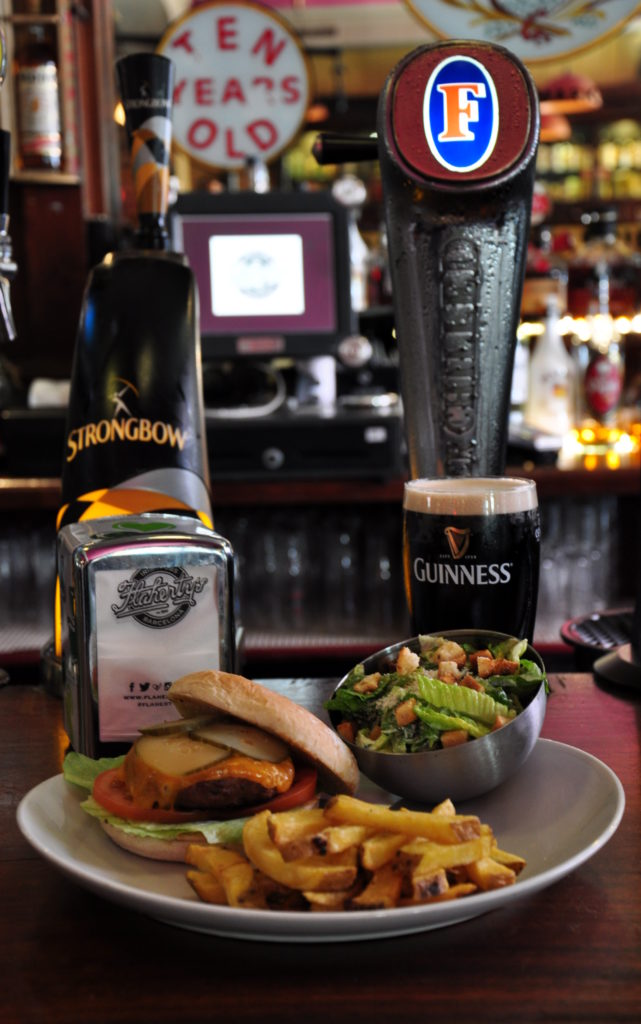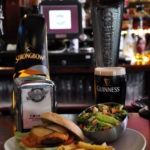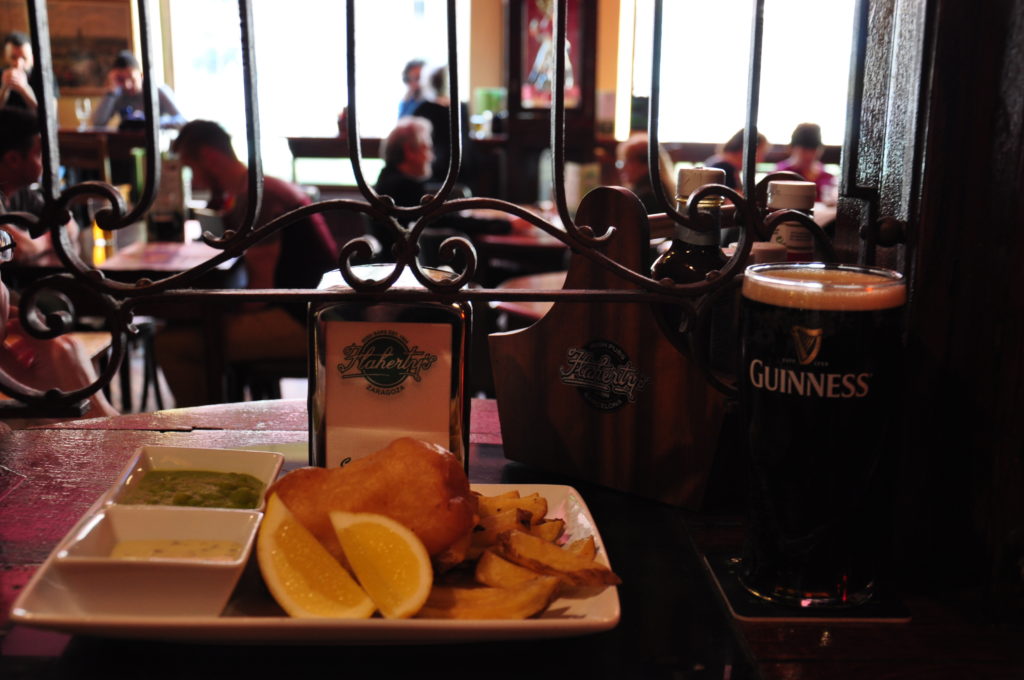 Remember I said many locals visit? Well, we are fond of bargains all over town and many of us will remember where to get them. Flaherty's Irish Pub Barcelona has embraced us and you can find daily specials! Every Tuesday you'll find my friends and I enjoying Tuesday Steak day, where you find the best bang for your buck lunch or dinner in town, grab yourself a Steak cooked to your liking with your choice of side, washed down with a glass of beer or wine for only 10E. But the specials don't end there, oh no… Monday to Friday they lure you in with the 9,80E Burger menu, where you get a starter (Nachos, BBQ wings, Mozzarella sticks etc.) main course Burger with a huge range to choose from, Desert, AND a drink included. They also offer 1€ beers from 4pm till 8pm Monday to Thursday And there is no rush, Kitchen closes at 1 am on weekends and midnight on weekdays. Tuesday has become a little holiday for us!
There's something for everyone, and there no wondering why it's the go-to spot to enjoy some drinks. I was like a kid in a candy store deciding what beer to try next, with a huge selection of beers, I ended up having their own Flaherty's brew, not bad I must say. The impressive cocktail list, (2×1 happy hour) 3,50E shooters, and try out a cool 3L self-serve beer tower. Don't miss a second of the action with all the major live sports played on the big screen, or grab your buddies and shoot some pool and take in the great atmosphere Flaherty's Irish Pub Barcelona has become famous for, which is mainly thanks to the friendly staff, Lucy and her team do an excellent job to make you feel right at home. Many Bars and Pubs come and go in Barcelona, but Flaherty's has marked its self in the fabric of the town with its charismatic & also lively oasis in the heart of busy Barcelona, you're bound to make some good memories here. Did I mention they do breakfast too?
Thanks to the awesome people at:
Flaherty´s Irish Pub Barcelona
Address: Plaza Joaquim Xirau, s/n, 08002 Barcelona, Spain
Phone: +34 934 12 62 63
Website: http://www.pflaherty.com/barcelona-home/