Are you looking for a great night out? Check out our new Pub Crawl Barcelona and party in Barcelona like a local.
Join this 2-hour workshop, where you will be creating a mural on one of the Three Chimneys Graffiti park's walls. You'll learn different techniques to work with spray cans, talk about creating your own image or text, and then work together with our graffiti artist to create an original street art piece.
Highlights
– Meet with an international graffiti artist
– Learn graffiti art form techniques
– Create your very own stunning colorful graffiti piece
– Paint on a Barcelona legal graffiti wall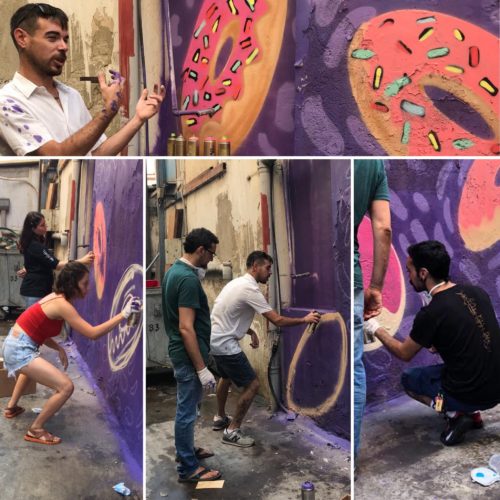 Get your creativity pulsing and your hands dirty! Be a part of Barcelona's vibrant street art scene with a graffiti workshop that allows you to spray paint your own urban masterpiece safely and legally. Grab a can of aerosol paint and tap into your creative, colorful urges as you express yourself on a public wall. All art materials are provided. This workshop is great for team building, group parties, school groups or just as something different to do on your trip to Barcelona.
Who:
The workshop will be held with the guidance of the professional graffiti artist, Mas972. The artist Mas972 has an impressive past of paintings on the streets of Israel and Europe, and has been running commissioned and guided graffiti workshops since 2001. Mas972's art is joyous and sarcastic, specializing in drawing characters that make people smile.
Where:
The workshop will take place in the Gothic Quarter, where the city's street art and graffiti scene serves as a unique expression of the city's geographical location, cultural peculiarities, political movements, and artistic sub-cultures. You will work in the famous Three Chimneys Graffiti Park, the heart of the street art scene for Barcelona's street artists (both professional and amateur).
The park is one of the city's only purpose-built graffiti parks, enabling the Barcelona's street art scene to really take off. By joining the workshop you too can leave your mark on this historic location.
When:
The public workshop is offered on week days from 12:00 – 2:00 PM and on weekends from 1:00 – 3:00 PM. The workshop needs a minimum of 5 participants to be held.
We also run this experience as a private event. A private group can add on extras including hotel pickup, lunch or dinner at an art gallery, and private art studio visits. This is a great activity for corporate events, group parties, or alternative family activities (children welcome).