Welcome to Barcelona and our home for the Original Free Barcelona Bike Tour. Come check out some of the amazing histories that fill the streets of the capital of Catalonia. Come down and join us at the meeting point, where if you don't have a bike one will be available for rent. You can rent them for the day, just the tour or longer! After we are all set up with our rides, it's time to hit the streets for this awesome free Barcelona Bike History Tour.
Our local guides love this city and can't wait to show it off to you. Along with the heaps of historical knowledge and sites, you will get to see and learn about. Our local guides also live in the city and are a great source of information for the best places to eat, or where to go dancing. They are filled with useful tips to make your Barcelona stay even better! So come with a group or by yourself there will be plenty of stops to get to know more people in the group. The Original Free Barcelona Bike Tour is one of a kind.
---
The Original Free Barcelona Bike Tour is about 3 hours and features:
---
| Church of Santa Maria | The Gothic Quarter |
| --- | --- |
| del MarThe Catastrophe of Tetuán | Basilica of La Mercè |
| The Monumental Bullfighting Ring | Colombus Monument |
| The Industrial Revolution in Catalonia | Arc de Triomf |
| Olympic Village & the 92 Olympics | The Generalitat |
| El Cap de Barcelona | Fossar de les Moreres |
| The haunted metro station | AND MUCH, MUCH MORE |
| Las Ramblas | |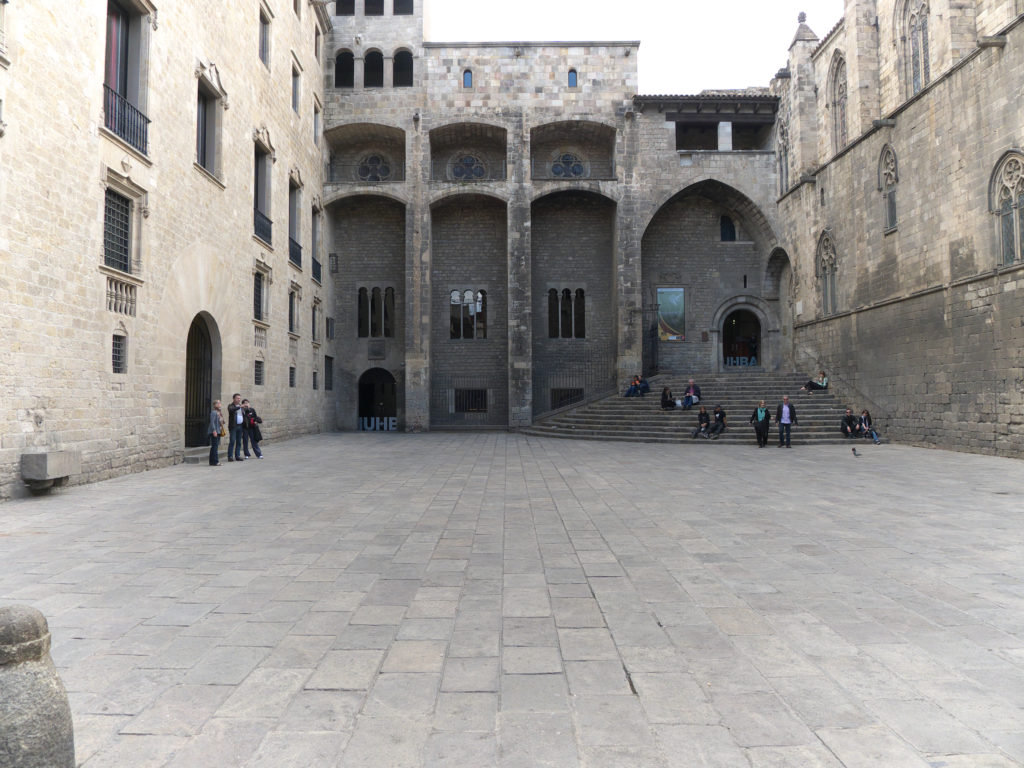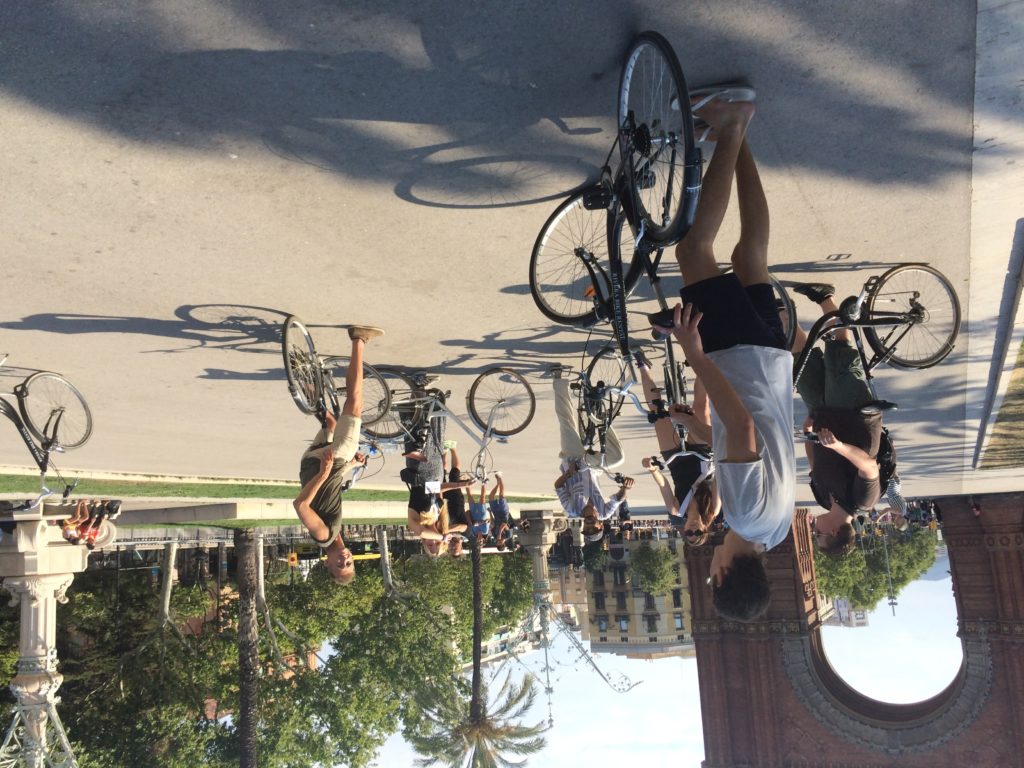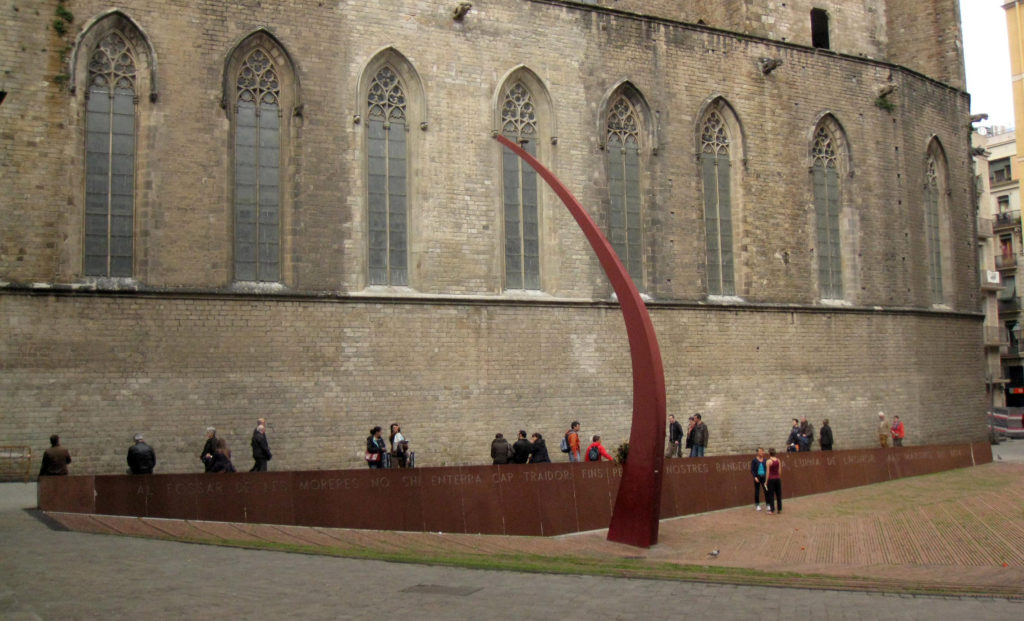 Our partners have the best prices in town! This is one of the best ways to learn your way around Barcelona, while also learning the history and culture of this great city. Come see the best side of Barcelona with us!
---
Free Barcelona Bike Tour Meeting Point
---
Everyday @ 10:30 
(next to this statue at the beginning of La Rambla at Placa Catalunya)
Monument a Francesc Macià
Plaça de Catalunya, 4, 08002 Barcelona, Spain
Bike included!
For group bookings or more information on the Original Free Barcelona Bike Tour please email info@originalbarcelonatours.com

---
---
More Information about Landmarks and the History of Barcelona.
(some visited on the Free Barcelona Bike Tour)
---
Barcelona is filled with history. As the capital of the historic region of Catalonia, Barcelona has always been one of the most cultural places in the country. From the Roman Period to Spanish Kings, and all the way up to today. This Spanish town has been shaped so much by the past. Come check out this original guide to get to know the crazy history of this place, and when you're ready to come with us to explore it for yourself. For the full low-down on the history of this amazing place head over to our extensive guide on the subject. Barcelona's History of Catalonia: The Travelers Tour Guide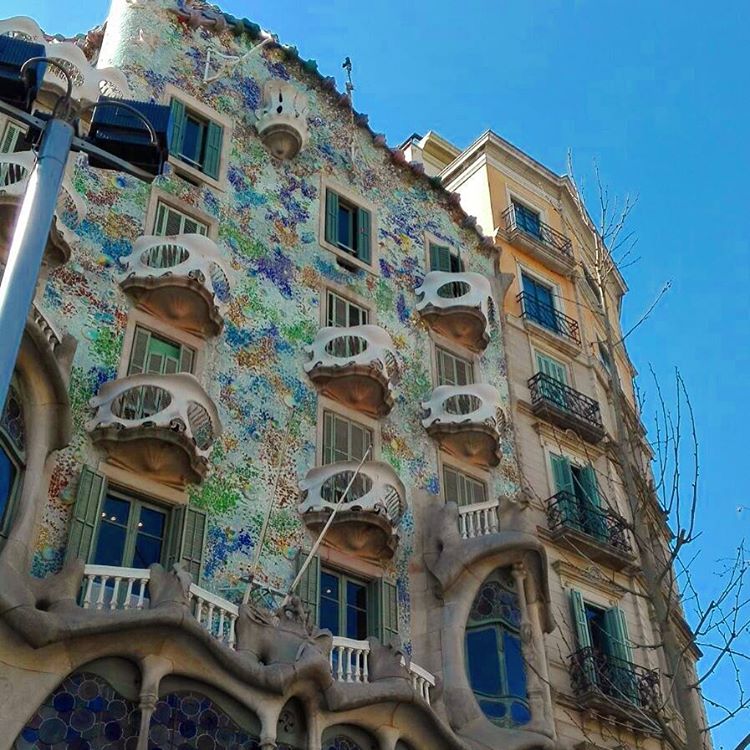 This mega famous architect called Barcelona home. Gaudi is one of the best examples of an architectural style known as Catalan Modernism. Antoni Gaudi has left many fabulous examples of his work here in Barcelona, including his magnum opus, La Sagrada Familia. Some other well-known Gaudi Locations include Casa Batllo, Palau Guell, and many more. For a great list of Gaudi Structures in Barcelona and Beyond head over to our Original Barcelona Guide To Gaudi.
A trip to Barcelona almost always means a visit to this always crowded street. Many people may not even know they are on it until they see some kind of sign. This place though is unmistakable, with its massive crowds, street performers, shops, restaurants, street markets and much much more, you can never really see all of the Rambla. This place changes its colors as the sun goes down! To read up on our take on the Ramblas head over to our original guide. La Rambla Barcelona, History, sights, and stories
This famous bullfighting ring in Barcelona, known as La Monumental, is located on the Grand Via. Now unlike La Rambla, the grand via is almost never completely walked by tourists as it runs the length of the city. However many parts of the Via are always packed with people and this is where you can find the best shopping in the city. La Monumental itself no longer host bullfights but does see its share of pretty crazy events, and stands as an important reminder of the past city of Barcelona and its inhabitants.  To read about the amazing history of this place and see some great photos head over to our post. La Monumental Barcelona's Famous Bull Fighting Ring
The Basilica of Our Lady of Mercy is a Baroque style basilica in Barcelona. Built between 1765 and 1775 by architect Josep Mas i Dordal, The Basilica of Our Lady was the second church in Barcelona to receive the title of minor basilica in 1918 by Pope Benedict XV. The statue crowning the top of the Basilica is the iconic form of "Our Lady" and can be seen from the Barcelona seaside promenade. For more great photos and information on the Basilica Check out Our Original Guide to Basilica of La Mercè Barcelona.
Barcelona hosted the 1992 summer Olympics, and in doing so transformed the city. One of the major changes that have shaped modern Barcelona today is the Olympic Village of Poblenou. The Barcelona Olympic Village was designed to accommodate 15,000 people and was built in the Parc de Mar area. Today the area is a lively place with many bars and local hot spots, in one of the best locations in the city. To see more on the transformation of Barcelona for 1992 Summer Olympics check out our Original Guide. Barcelona's Olympic Village & the 92 Olympics (barcelonaolímpica)
Other Posts With Useful Information
The Best View Points in Barcelona